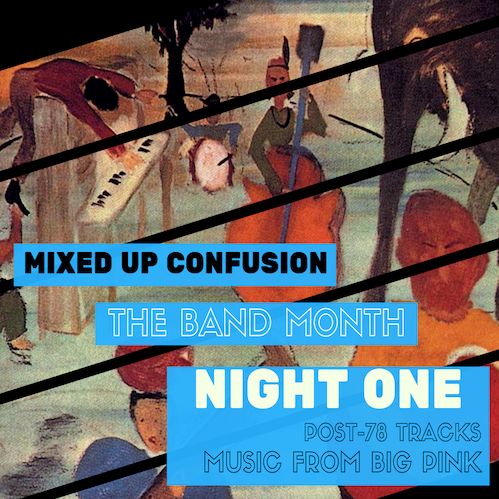 Nov 1, 2018 • 1HR 13M
The Band, Night 1 – 'Music From Big Pink' And Post-78
"This album was recorded in approximately two weeks. There are people who will work their lives away in vain and not touch it."
Not the Bob Dylan podcast you need, but certainly the one you want. We explore Dylan one random song at a time.
Mixed Up Confusion is our vehicle to discuss the culture that surrounds our weekly conversation about Bob Dylan. This is the first episode of November's Band Month! 
Tonight, Night 1, features post-1978 tracks and 1968's masterpiece, Music From Big Pink. Before we begin, one must understand the formula for these run of nights (2:00) as well as just who is The Band (5:45). Then, we open with the post-Last Waltz material (9:00): - Jericho songs (10:00) - High on the Hog songs (12:15) - Jubilation songs (14:00) 
Before the main event, Music From Big Pink (26:00): - "Tears of Rage" (33:00) - "To Kingdom Come" (37:40) - "In a Station" (38:30) - "Caledonia Mission" (40:45) - "The Weight" (42:30) - "We Can Talk" (50:00) - "Long Black Veil" (52:45) - "Chest Fever" (54:10) - "Lonesome Suzie" (59:00) - "This Wheel's on Fire" (1:01:05) - "I Shall Be Released" (1:05:15) 
Night Two will feature the Band's final official album, Islands from 1977, and the inimitable The Band from 1969. See you then.