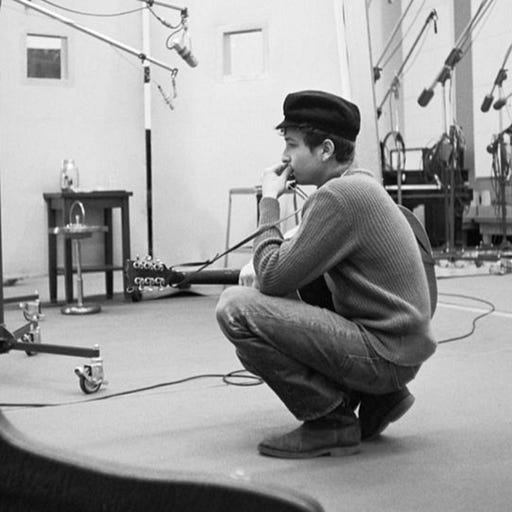 May 30, 2022 • 1HR 28M
139 – "Talkin' New York"
Not the Bob Dylan podcast you need, but certainly the one you want. We explore Dylan one random song at a time.
Daniel and Kelly listening to Dylan one random song at a time. This episode features our return, like Bob, to the music industry — "Talkin' New York" from 1962's Bob Dylan.
bob dylan news and updates (5:00) | been to nyc? (11:30) | initial thoughts (14:20) | context (18:30) | music (23:30) | song itself: prologue (26:00), part 1: new york town (28:30), part 2: folk scene (37:30), part 3: movin' on (43:30) | does this work today? (51:30) | playlist (54:00) | recommendations (1:05:30) | ending (1:23:30)
Follow us: sotwpod.com | twitter | instagram
Playlists: see that my playlist is kept clean | episode playlist
If you're inclined: patreon
Next episode: a debaucherous time where you're not allowed to leave...
---
Bob Dylan news (5:00)
Been to NYC? (11:30)
Initial Thoughts (14:20)
Context (18:30)
Versions & Music (23:30)
Song Itself
Prologue (26:00)
Part 1: New York (28:30)
Part 2: Folk Scene (37:30)
Part 3: Movin' On (43:30)
Does this work today? (51:30)
Real Podcast and Playlist (54:00)
Recommendations (1:05:30)
D: Whitney Houston and Didn't We Almost Have It All; Thursday Full Collapse live; Atticus Dragging the Lake (2002)
K: Russian Doll, Flight Attendant, Dungeons & Dragons (2000), Simply Irresistible ("one good sexual thought takes at least 20 minutes"), Spice World, Nightmare Alley; RUN DMC's Raising Hell, Depeche Mode (Black Celebration, Music for the Masses, Violator and Songs of Faith and Devotion)
Endings (1:23:30)
Reference
---
Follow us wherever you listen to podcasts. See our real-time playlist See That My Playlist is Kept Clean on Spotify. Follow us intermittently on Twitter and Instagram.
Tell your friends about the show, rate and review wherever they let you, and consider supporting us by subscribing or at Patreon.