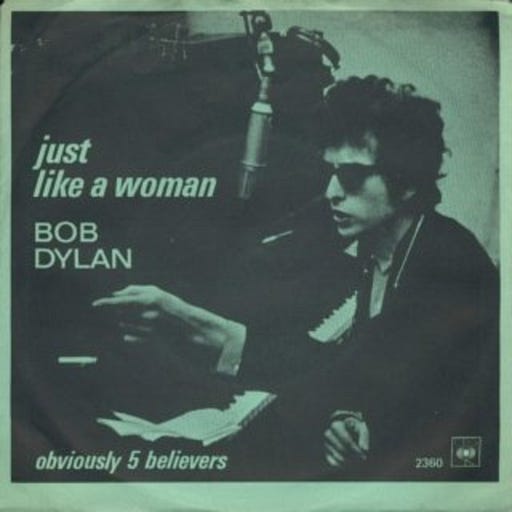 Jun 3, 2019 • 1HR 6M
084 – "Just Like a Woman"
"Rock love songs exhibit a regular gallery of passive, spiritless women, sad‐eyed ladies propped on velvet thrones as the private property of a Sunshine Superman."
Not the Bob Dylan podcast you need, but certainly the one you want. We explore Dylan one random song at a time.
Sign on the Window isn't the Bob Dylan podcast you need, but it's definitely the one that you want! Each week we select a Dylan song at random, live with the song for a week (or two) and then get together to discuss. This week we return to Blonde on Blonde for "Just Like a Woman."
This is a big one and we spend the episode talking context, our myriad versions and what is happening here and how it all connects to even the few songs in this era we've covered on this podcast. 
Next episode: 400 million people can't be wrong...
CONTEXT (3:30)
Recorded after a lot of the songs we'll tal about today on March 8, 1966. After four takes, they finished "Pledging My Time," before returning to another 13 takes, the final making it on Blonde on Blonde.
Dylan was joined with Charlie McCoy, Robbie Robertson, and Wayne Moss on guitar; Joe South on guitar or bass; Henry Strzelecki on bass; Al Kooper on the organ; Hargus "Pig" Robbins on piano, and Kenneth Buttrey playing drums.
There are physical remnants from Dylan's Blonde on Blonde papers (where Dylan wrote as Al Kooper played piano in their Nashville hotel room, claiming to have written this song on Thanksgiving). Clinton Heylin notes in Revolution in the Air:
What Dylan does have is most of the first verse (minus 'from her curls'); a single couplet from the second ('nobody has to guess / baby can't be blessed'); another from the final verse ('when we meet again, introduced as friends / don't let on you knew me when'); and just a single line of the bridge: 'I'm dying here of thirst...' All of these lines he tapped out on a single sheet, the last of which is typed the other way up, apparently part of a separate set of lyrics – for yet another ménage à trois in song – to which the lines, 'how come you both lied to me,' and, 'he never said he'd live forever / he'd just make a fuss over all of us / but it's just you and me,' also apparently belonged.
Apparently, Dylan offered the song to Otis Redding, who wanted to do it, but died in 1967. The Dylan-released single in August '66 made it to #33 on Billboard.
In 2011, Rolling Stone magazine ranked Dylan's version of the song at #232 in their list of the "500 Greatest Songs of All Time."
He's played "Just Like a Woman" 871 times, as of recording.
OUR VERSIONS
Blonde on Blonde: All agreed this was the best version. Some regard the harmonica as the best he's ever done (it is damn good). The organ in-between verses is solid (a trick from "Visions of Johanna" and "Stuck Inside of Mobile"). Great drums, per usual.
The Bootleg Series, Vol. 5: In podcast time, we just learned that Scorsese is directing a Rolling Thunder documentary for June 12 and a Rolling Thunder boxset (some of which is covered in this entry of the Bootleg Series). Anyway: this version is bristling with electricity and, most important, Scarlet Rivera. We're both suckers for her and love to shave a full minute off the time.
The Bootleg Series, Vol. 4: Dylan and his acoustic — and it's lovely. Incredible harmonica work. Daniel mentions getting the 36-disc Live 1966 boxset and being intimidated to really dive in.
Before the Flood: Acoustic energy. His "breaks like a little gir-her-url" is rough. Harmonic is weak and the applause isn't warranted! But it's still an interesting deconstruction and another example of him weaponizing a past song for the moment.
At Budokan: It's... fine. It's understated and the singers and staccato guitar have their moments but the harmonica doesn't sound great. We couldn't tell if it if made the wise choice in staying in the song's register instead of turning it on its head.
The Bootleg Series, Volume 12: The Cutting Edge
We get the entirety of the recording process for "Just Like a Woman." Like One of Us Must Know (Sooner or Later) (071), it's a fascinating ride. Dylan does that thing were his anger dissipates over the course of the recording and replaces "she" with a first person narrator.
Like all the greats from The Cutting Edge, this started as a waltz with different lyrics, different bridge, different vibe. As Sean Wilentz notes:
On several early takes, Dylan sang disconnected lines and semi gibberish. He was unsure about what the person described in the song does that is just like a woman, rejecting 'shakes,' 'wakes,' and 'makes mistakes.'
Take 2 is great. That version and Take 3 introduce flourishes to the guitar that they'll expand upon. Take 4 introduces the organ and changes the complete feel of the song. Dylan says, correctly, "we lost man." Wilentz called Take 4
a weird, double time fourth take, somewhere between Bo Diddley and Jamaican ska.
They stop and go record "Pledging My Time."
By Take 8 the song is taking shape, even if its more lilting than the final version. Take 9 has the bridge in all its glory. Take 11-12 let us listen to Dylan practicing the song before Johnston announces, "One more time, Kenny lead in. Rollin on 12."
Take 13 is close. By Take 15, "That's too good a feel, Bob. That intro is off but that's a perfect feel." Take 16 is so close that it's a contender for Daniel's favorite take of the song. After 18 takes, we reach the apex.
SONG ITSELF (30:00)
There may not be another song in Dylan's oeuvre that is more contentious, and it's never satisfying to say that you bring what you want. Kelly, who is hearing this for the first time, is responding as Daniel tries to recall his first time. The initial thoughts are mixed, naturally, with Daniel admitting this song is overrated and not as good as other thematically similar songs on Blonde on Blonde.
We talk about the song at length — lyric by lyric, basically — so we won't repeat that in text. Go listen to the episode as we grapple with it.
Below, in the toggle, are quotes and sources discussed in the episode ↙️
Dylan to Robert Hilburn in 2004:
Even if I could tell you what ['Just Like a Woman'] was about, I wouldn't. It's up to the listener to figure out what it means... This is a very broad song... It's like a lot of blues-based songs. Somebody may be talking about a woman, but they're not really talking about a woman at all... It's a city song... I don't think in lateral [sic] terms as a writer... I always try to turn a song on its head. Otherwise, I figure I'm wasting the listener's time.
In 1980 at the Warfield in San Francisco, he rapped:
The other night I was standing out backstage, and this guy came up to me and said, 'Do you remember that woman that came up to you about an hour ago with long red hair?'

And I said, 'Yes, I remember that woman.'

He said, 'She sure was pretty, wasn't she?'

'Yes, she was alright.'

He said, 'That was me.' . . . 'Nobody feels any pain. . . .'
Christopher Ricks wrote
Everyone can understand the feelings and the relationship described in the song, so why does it matter if Dylan wrote it with one woman in mind?
Then there's Marion Meade's "Does Rock Degrade Women?" ⬇️
In an article "Does Rock Degrade Women?," Marion Meade wrote in the New York Times on March 14, 1971, watching a Woodstock documentary (which celebrates 50 years this year)
...with the exception of a pregnant Joan Baez who couldn't seem to stop talking about her husband, all the musicians were men. Sweaty, bearded men were busy building the stage, directing traffic, shooting the film, and running the festival. Brotherhood was repeatedly proclaimed, both on stage and off. Woodstock Nation was beginning to look ominously like a fantasyland which only welcomed men. How about the women? Barefooted and sometimes barebreasted, they sprawled erotically in the grass, looked after their babies, or dished up hot meals.
She relates this to Stokley Carmichael loving Westerns as a kid and rooting for the cowboys against the Indians until one day he realized he was an Indian.
There's no more complete catalogue of sexist slurs than Dylan's "Just Like a Woman," in which he defines woman's natural traits as greed, hypocrisy, whining, and hysteria. But isn't that cute, he concludes, because it's "just like a woman." For a finale he throws in the patronizing observation that adult women have a way of breaking 'just like a little girl.'
She goes on:
These days a seemingly mellowed Dylan has been writing about women with less hatred but the results still aren't especially flattering. Now he calls his females ladies And Invites them to lay across his big brass bed.
But she's got a few more points:
As for romance, rock hasn't rejected it entirely. Rock love songs exhibit a regular gallery of passive, spiritless women, sad‐eyed ladies propped on velvet thrones as the private property of a Sunshine Superman.
Why aren't there more women?
The problem is that women have been intimidated from even attempting a career in rock. Women, the myths says, aren't smart enough to understand the complexitles of electronics or tough enough to compose music of sufficient intensity or physically strong enough to play drums. The guitar is acceptable but the electric guitar is unfeminine.

Which leaves us with Joan Baez, Judy Collins and Joni Mitchell, who specialize in the bland folk‐rock deemed appropriate for a delicate sex.
DOES IT WORK IN 2019? (52:00)
For Kelly, it's a no. For Daniel, it was never a favorite, is perpetually skipped on Blonde on Blonde and generally overrated.
We listened to Nina Simone's version ( the "I" she sings in the last verse acknowledges what Dylan doesn't here: that women can be strong and fake, love and leave, ache and bruise, yet break like a "little girl" with out the pejoratives) and Robert Shelton recommended Roberta Flack's "vastly different version, in which she converts the song into a compassionate lament for women's victimization and depth of feeling. She achieves this through an interpretative shift, but also changes the lyrics' viewpoint. Perhaps she was trying to write an 'answer song' based on the original."
Your mileage may vary, but we agree that Dylan, as the author, is the only male text we need. Does this need a response? Nope. But if it does, it should be from a woman.
THE EPISODE'S BOOKLET & PLAYLIST (56:30)
RECOMMENDATIONS (1:00:00)
Kelly recommends Slow Mass and Sunny Day Real Estate.
Daniel recommends Tallest Man on Earth's I Love You. It's a Fever Dream. along with Martha Love Keeps Kicking, Bars of Gold Shelters, and Fontaines D.C. Dogrel.
Oh, and Bob Dylan has a whiskey coming soon!
Bob Dylan whiskey distillery to open fall 2020 in Nashville
(Which we wouldn't officially try until "Sweetheart Like You" with Kindra and John in the backyard!)
ENDINGS (1:02:00)
423 songs left. Kelly guesses #92 — "When Did You Leave Heaven" from the tough Down in the Groove. It's #271. "Spanish Is A Loving Tongue" next time!
---
Follow us wherever you listen to podcasts. See our real-time playlist See That My Playlist is Kept Clean on Spotify. Follow us intermittently on Twitter and Instagram.
Tell your friends about the show, rate and review wherever they let you, and consider supporting us by subscribing or at Patreon.