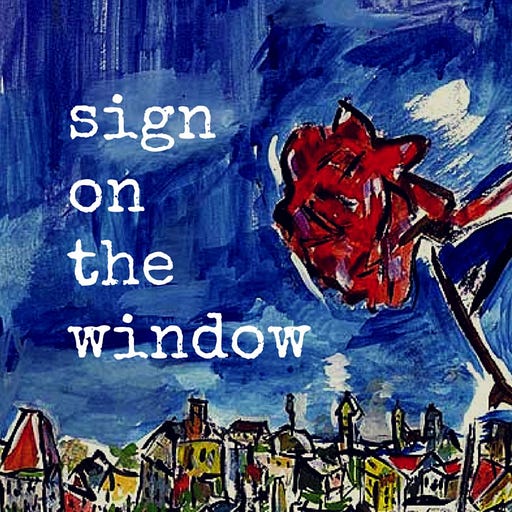 Feb 10, 2018 • 1HR 0M
045 – "Black Diamond Bay"
"You have to know how people feel, and you don't get that from television news."
Not the Bob Dylan podcast you need, but certainly the one you want. We explore Dylan one random song at a time.
Sign on the Window is like that necktie and your Panama hat... it helps you look good in the face of utter destruction. Each week we listen to a random Bob Dylan song and this week, from 1976, "Black Diamond Bay." 
We talk context (5:45), the merits of traveling over staying in LA drinking a beer (12:00),the song itself (23:00, theories (30:00) and storytelling. We talk Conrad, Achebe, and Kendrick Lamar so buckle up. 
CONTEXT (5:45)
"Black Diamond Bay" was recorded at Columbia Studios in New York City on July 29, 1975 in 12 takes, then on July 30 in 5. There is a connection to Joseph Conrad, namely the 1915 novel Victory, as Ian Bell notes:
There is no hero, certainly no epic journey, least of all a spiritual rebirth. Instead, the song owes everything to Conrad's use in Victory of doubled perspectives, physical and moral, and to the idea of fate, blind and mute, that permeates Blood on the Tracks. In 'Black Diamond Bay', good and evil contend; people scurry around on their plots, affairs and petty human errands; the volcano explodes regardless. The End. — Ian Bell, Time Out of Mind: The Lives of Bob Dylan
This song was played only 1 time. Or was it?!?!
Bob Dylan dot com, your home for most things Bob Dylan, says that the song was performed in Salt Lake City, Utah, on May 25, 1976, at the end of the Rolling Thunder Revue. Ian Bell mentions a 2003 collection by **Les Kokay (Songs of the Underground: A Collector's Guide to the Rolling Thunder Revue 1975–1976)which notes the supposed performance but accepts that the claim is based on a single unsupported report of a show with no bootleg extant.
TRAVELING OR STAYING IN LA WITH A BEER? (12:00)
This song was written with the end in mind. The closing line makes it clear: there's always another hard luck story that you're gonna hear. Dylan told Neil Hickey in 1976:
I don't feel that to live in this country you have to watch the TV news. You learn from talking to other people. You have to know how people feel, and you don't get that from television news.
And in the end I never did plan to go anyway to Black Diamond Bay. As two traveled people who can conceptualize nameless, faceless people far away living lives of imagination and passion, do we relate to Dylan's apathy?
SONG ITSELF (23:00)
Definitely a hidden gem in the Dylan catalogue, as ambitious as "Lily, Rosemary and the Jack of Hearts" and "Changing of the Guards" as a stand alone fiction. It's got this old movie kind of vibe, the "movie-spinning" as Michael Gray calls it. You can almost see this in black and white while present day schlub, drink in hand, is vividly, embarrassingly, in color.
The narrative is engaging and the chord sequences complement the mood. The level of detail is astounding as are Dylan's casual flexes with the songs internal rhyming ("veranda" with "necktie and a;" "open" with "rope and;" "second floor" with "Ambassador;" "vous plaît" with "fly away;" "the basement blew" with "je vous aime beaucoup").
Dylan populates this islands with memorable characters. Our main character, the woman in the Panama hat, is trying to start her life over before it's too late. The Greek tries to kill himself, fails (?, or doesn't), but the volcano goes off anyway. The desk clerk reassures everyone the rumblings "happen everyday." The soldier and the tiny man, the loser and dealer. The Soviet ambassador. It just goes on!
Which makes the end of the song wallop. Daniel likened it to the end of Chinua Achebe's masterpiece Things Fall Apart. The novel, which focuses in Okonkwo in nineteenth century Nigeria, closes with this passage (imagine the Commissioner in LA drinking a beer on some sofa):
The Commissioner went away, taking three or four of the soldiers with him. In the many years in which he had toiled to bring civilization to different parts of Africa he had learned a number of things. One of them was that a District Commissioner must never attend to such undignified details as cutting a hanged man from the tree. Such attention would give the natives a poor opinion of him. In the book which he planned to write he would stress that point. As he walked back to the court he thought about that book. Every day brought him some new material. The story of this man who had killed a messenger and hanged himself would make interesting reading. One could almost write a whole chapter on him. Perhaps not a whole chapter but a reasonable paragraph, at any rate. There was so much else to include, and one must be firm in cutting out details. He had already chosen the title of the book, after much thought: The Pacification of the Primitive Tribes of the Lower Niger. — Chinua Achiebe, Things Fall Apart
The irony that we just read an entire book on a man who will be reduced to a paragraph resonated. All those hard luck stories that you're gonna hear are worthy, even if we concede that we don't have the capacity to hear them all. Achiebe, and Dylan, challenges our perception and empathy for others.
THE EPISODE'S BOOKLET & PLAYLIST
RECOMMENDATIONS
Kelly "discovered" the back catalog of Kendrick Lamar. 'Bout time. Daniel played Great Collapse Neither Washington Nor Moscow… Again (and The Redskins Neither Washington Nor Moscow… from 1986.
ENDINGS
Kelly guessed #402. "Let's Stick Together." Would be our first from Down in the Groove. It's #451. The classic "Up to Me," which originally premiered on 1985's Biograph.
Next week: No one else could play that tune...
---
Follow us wherever you listen to podcasts. See our real-time playlist See That My Playlist is Kept Clean on Spotify. Follow us intermittently on Twitter and Instagram.
Tell your friends about the show, rate and review wherever they let you, and consider supporting us by subscribing or at Patreon.